Alo- Alo- AloHi to you unique one!
First, I wanted to welcome you in my site. Thanks for visiting and if you're new, feel free to read my past blogs. For now, I wanted to introduce myself. I'm Shanen, 16 y/o, your blogger buddy! (This sounds cringe) but this is my welcome affection until the end and forever.
Let's talk about REAL LOVE.
Real? Sounds genuine, looks authentic, feels sincere.
Love? Family, Relatives, Friends, Boyfriends/Girlfriends, Neighbors. Many forms.
But let's talk about God's relentless ❤ L O V E ❤
Last year I did stop attending in our church, I became hiatus in our Praise and Worship Team even to the Youth Ministry. I just stopped.
Supposedly, I just have a time limit of "hiatus" for like 2 months because I really had this bad time management in our school and for myself, being a student council officer, a president in class, stellar student, a lay-out artist and sports editor in our school's news paper, and doing thesis papers and stuff is really mind-boggling. It's my actual first time in everything (well except for being part of the school's news paper I've been there for 5 years already). Thesis and being a student council officer is all new to me.
But when I was about to go back last March 2017, there are sort of problems in our church. I don't want to be and get affected of course. Before when I was about to go back I also have the same period of having these depression, hatred and thirst of comfort and love which I believe and will always believe that can be found in our church, to God and from my fellow church mates. I can't blame anyone from what's happening but it's really at the bad taste of time, really, it was a total wrong timing.
I got "more" disappointed.
I got "more" thirsty.
I got "more" scared.
Yes.. family? Check! Partner? Check! Friends? Check!
But to be HONEST, it is still different when you thirst for God's love. Yes, I've seen the world but I have never been so sure from the love that they offer.
It's unsatisfying and cheap. 🙂
That's why I became so lost, independent and I tend to over thinking. I've became more self-conscious, I got anxiety attacks at night, I tend to cry so easily at things that I overthinking, my friendship with others became worst and worst everyday. I wasn't able to HONESTLY cope with the new environment, new people in my Grade 11 life. It's a total disaster of depression.
THIS IS LEGIT. TOTALLY LEGIT.
Furthermore, today. The actual day I'm doing this blog was right after I did my personal devotion. Let's date it: November 5, 2017 10:34 PM – SUNDAY. I didn't go to church and it's our last day of semestral break. Out of the blue, I decided to start my devotion with the help of the Bible App which I opened and the "Bible Verse of the day" popped out:
Galatians 2:20 NIV : I have been crucified with Christ and I no longer live, but Christ lives in me. The life I now live in the body, I live by faith in the Son of God, who loved me and gave himself for me.
It may be out of the blue but it is unexpected. My body started to get pumped, my hands started to open my journal, my eyes started to read the Bible verse and my heart started to feel, to realize, to feel God's message for today. It's been a long time since I had my last devotion. Starting it again on an unexpected period makes me feel that I did achieved something. Something that I'm longing for a long time..
GOD'S REAL LOVE.
The essence of God's MOST AND REALEST LOVE made a huge impact of realizations in my life. At the moment I started to read the verse, it already feels so comforting and relaxing. It did soothe my gloomy heart. It just moved and I think it smiled. "Thanks for bringing me back to life Shanen :D"  To be honest, I felt so different. I was this person before but now there's another version of me again. I no longer live. Indeed, Christ lives in me. The life I now live in the body, I live by faith in the Son of God, who loved me and gave himself for me. This will be my starting point and guidepost until the end of my year 2017 and forever. A rare routine, a new period and replenished chapter of my life began.
Afterwards, I listen to  Hillsong's Y&F Real Love and watched their Music Video. I scrolled down through the comments and found Matthew Ryan's comment or rather explanation of the music video's story, really awakening and eye opening:
In the beginning, he buy's that drink from the convenience store and it says "LOVE" on it. Spits it out because it is cheap love. Next he moves into the tunnel with the dancers in white which are supposed to represent God's love. Notice how he dance's when he's with those who were in white. Then they disappear and he goes searching for "Love" again. He stumbles into a girl's karaoke thing and when they dance with him to the same beat he doesn't feel the same love as when he was dancing with "God's Love". Lastly he travels through the room full of neon signs and they have stuff like "MONEY" "STARDOM" "FAME" and he doesn't find love anywhere there, until the end where he finds the people in white again and get's to dance to "God's love" again. It just show's that you can't find God's "REAL LOVE" from the cheap, materialistic things, this world has to offer! That's how I perceived it.
Actually I'm out of words right now. Reading it again makes me feel like I'm the guy who's also finding God's REAL and GENUINE LOVE.
"I never knew a love like this before. The kind of life that I cannot find on my own. I've seen the world but I have never been so sure. That I want Your heart. God, I just want to be where You are."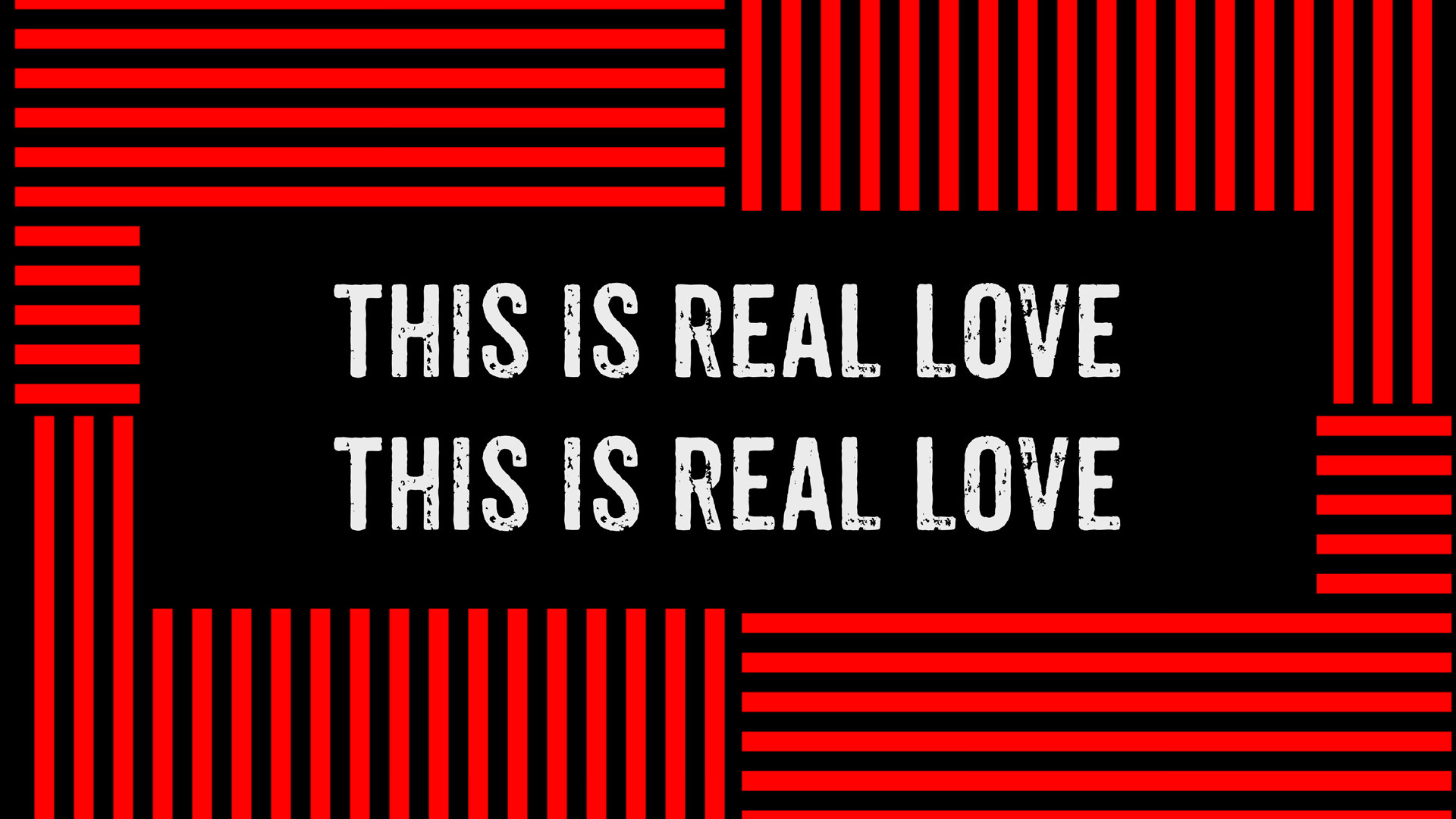 It is a total difference between the worldly love and God's love. God's love is enough and satisfying. It makes my heart and soul full and happy. Feeling and having God's love along the way heats me up. With this, I'll be able to give love to myself and to the people around me. It is so unique and overwhelming. It REALLY makes my heart come alive at the same time I suddenly brought to life realizing that I found my freedom in Jesus' presence and love.
"You're pulling me closer and closer. Holding my heart till the very end. Jesus, I'm found in your freedom. This is real love, this is real love"
To the people who's reading this, whether you're Christian or not, whether you're alone or with someone, whether you're poor or rich, whether you're young or old. God loves you. Always love how Jesus loves you. 🙂 No matter what situation you are into now, you're not alone. This voyage is just getting started. I'm not inviting more problems to come but I'm inviting YOU to fight together with God. Let's persevere even if it is finding God's love.
He is in front of you. He is just waiting for your heart to open and for it to realize how wonderful life is with God. Open your heart and eyes of what God has to say.. where?
From the Bible. The Bible Verse will teach and lead you to your goal. It will satisfy you if you let yourself understand the meaningful and magnificent message that God has to offer.
This message is not only for you but also for me. Reading this will also make me realize where I started and how I started my life all over again. I hope every one of us will have this realization not just on what we lack (tangible or intangibly), material or non-material stuff but the realization that we're honestly lack of Love and Faith to God alone.
Our faith in Him should be greater than any of the fame, money, status that we have in our life. God is greater than anything even to problems and in our "what we think" situations that could end our lives. 
I hope this makes you and I happy. I hope you were satisfied and always start by praying and reading Bible Verses. Listening to Praise and Worship songs will also do.
Check out my greatest picks for you:
Credits: Hillsong Young & Free 
There's much more including: Bethel Music, Hillsong United, PlanetShakers.
If you have recommendations feel free to comment down below and let us exchange thoughts as well ♥
May God blesses your life and health. Hope you were motivated to start your own devotion and ALWAYS-ALWAYS seek for God's REAL LOVE.
Remember:
💜 Let all that you do be done with L O V E 💜 — 1 Corinthians 16:14 NKJV
Shanen, taking off!